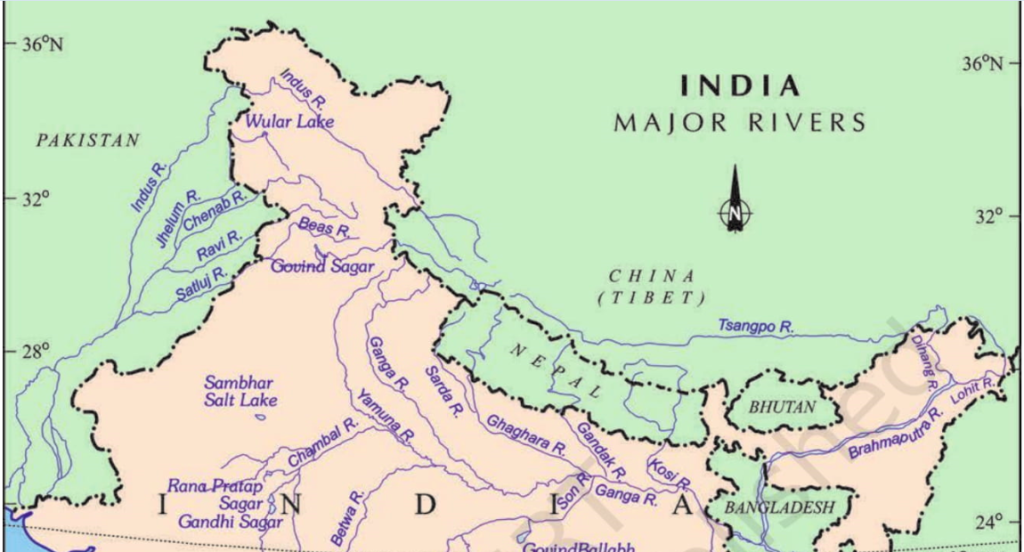 THE INDUS
Also known as Shindu, is the western most Himalayan river
It originates from a glacier near Bakhar Chu in Tibetan region of Kailash mountain range
In Tibet it is also known as "Singi Khamban "
It receives the Kabul river on its right bank. The other important tributaries joining the right bank of the Indus are the Khurram, the Tochi, the Gomal, the Viboa and the Sangar. They all originate in the Sulaiman ranges.
NUBRA river is a tributary of Indus, that originates from siachen glacier
Receives its left bank tributaries 'Panjnad' a little above Mithankot. The Panjnad is the name given to the five rivers of Punjab, namely the Satluj, the Beas, the Ravi, the Chenab and the Jhelum. It finally discharges into the Arabian Sea, east of Karachi.
The Indus flows in India only through Jammu and Kashmir
Stakna Hydroelectric Project is located on Indus in leh district of J&K
Name of our country "India" is derived from the Indus River. In ancient times, "India" initially referred to those regions immediately along the east bank of the Indus, but by 300 BC, Greek writers including Herodotus and Megasthenes were applying the term to the entire subcontinent that extends much farther eastward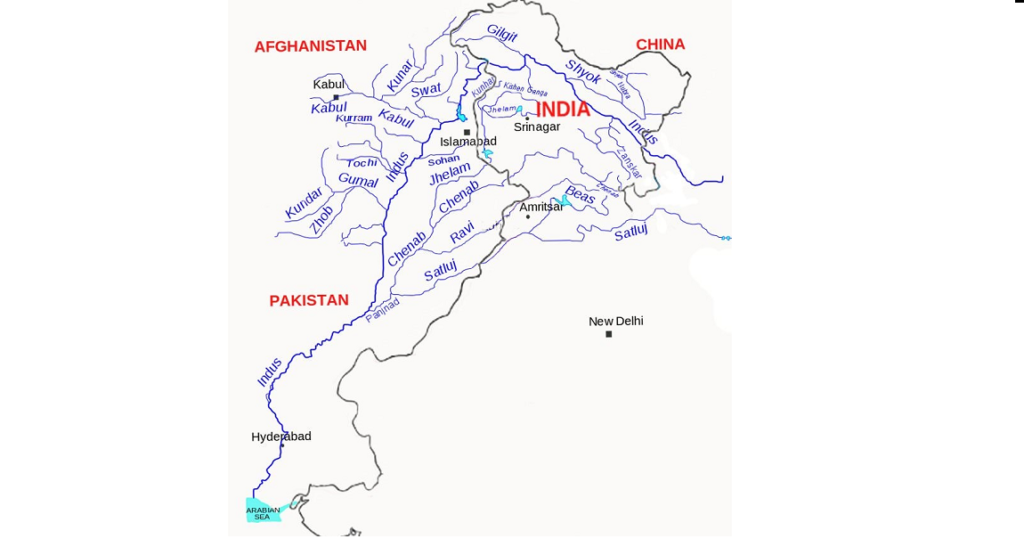 THE JHELUM
Jhelum river originates from a magnificent spring called "Chashma Verinag" situated at the foot hills accommodating Banihal pass in the south eastern corner of the Kashmir Valley.
The Jhelum is also known as Vyeth in Kashmiri, Vetesta ( वितस्ता ) in Sanskrit and Hydaspes in Greek.
It flows through Srinagar and the Wular lake before entering Pakistan through a deep gorge.
It joins the Chenab near Jhang in Pakistan.
The waters of the Jhelum are allocated to Pakistan under the terms of the Indus Waters Treaty.
Battle of the Hydaspes was fought between Alexander the Great and The great Indian king Porus.
Kishanganga Hydroelectric Plant Uri-I and Uri-II Hydroelectric Projects are situated on Jhelum
Dal lake is also said to be old flood spill channel or ox-bows of the Jhelum River
THE CHENAB
The Chenab is the largest tributary of the Indus.
The Chenab river was called Asikni (असिक्नी) in the Rigveda
Two streams contribute to its formation, the Chandra and the Bhaga, which meet at Tandi near Keylong in Himachal Pradesh. Hence, it is also known as Chandrabhaga.
The Chandra and the Bhaga originate from the south-west and north-west faces of Bare-lacha-la pass respectively in the Himalayan canton of Lahul and Spiti valley in Himachal Pradesh.
joined on the right by its biggest tributary, the Marusudar at Bhandalkot.
The waters of the Chenab were allocated to Pakistan under the terms of the Indus Waters Treaty.
Dul Hasti and Ratle Hydroelectric Plant – are power station of run-of-the-river type in Kishtwar District
THE RAVI
The Ravi is an important tributary of the Indus.
It rises west of the Rohtang pass in the Kullu hills of Himachal Pradesh and flows through the Chamba valley of the state.
Join the Chenab near Sarai Sidhu, Pakistan.
The waters of Raavi are allocated to India under Indus Water Treaty.
The Raavi River was known as Iravati (इरावती,) in Vedas.
According to Yaska Part of the battle of the ten kings was fought on a River, which refers to the Iravati River (Raavi River) in the Punjab.
The major multipurpose project built on the river is Ranjit Sagar Reservoir & Dam (also known as Thein Dam as it is in Thein village)
Chamera – I,II and III Hydroelectric Projects are located on the Ravi river in chamba district of himachal pradesh.
The Shahpurkandi Dam project is located on the Ravi River in gurudaspur, Punjab. This Dam was approved by the Union government as a national project. Funding for Central Assistance to Shahpur Kandi Dam project shall be made through NABARD under existing system for funding of 99 PMKSY-AIBP (PradhanMantri Krishi Sinchayee Yojana -accelerated irrigation benefit scheme ) projects under LTIF (long term irrigation fund)
THE BEAS
The Beas originating from the Beas Kund near the Rohtang Pass.
it meets the Satluj near Harike, Ferozepur district of the Punjab.
The Indira Gandhi Canal is the longest canal of India. It starts from the Harike Barrage at Harike
As of 2017 the river is home to a tiny isolated population of the Indus dolphin.
Rig-veda called it the river Vipas, which means unfettered, in later Sanskrit texts it's been called Vipasa, Yāska identifies it with Argrikiya.
Maharana Pratap Sagar (महाराणा प्रताप सागर), also known as Pong Reservoir was created by building Pong Dam on the Beas River in the Kangra district of the state of Himachal Pradesh.
Maharana Pratap reservoir or lake is a well-known wildlife sanctuary .
THE SATLUJ
The Satluj originates in the 'Raksas tal' near Mansarovar in Tibet.
In Tibet satluj is known as Langchen Khambab / Zangbo.
The Satluj River is also known as Satadree / Shatarudra.
It flows almost parallel to the Indus for about 400 km before entering India, and comes out of a gorge at Rupar.
The Satluj passes through the Shipki La on the Himalayan ranges and enters the Punjab plains.
In essence, it is an antecedent river.
And, it is a very important tributary as it feeds the canal system of the Bhakra Nangal project.
It is the longest of the five rivers that flow through the historic crossroads region of Punjab in northern India and Pakistan.
The waters of the Satluj are allocated to India under the Indus Waters Treaty.
It is the easternmost tributary of the Indus River.
Ropar Wetland in Punjab state is located on the Satluj river basin.
Gang Canal of Rajasthan is an irrigation system of canals laid down by Maharaja Ganga Singh of Bikaner in his princely state in the present district of Sri Ganganagar. It is fed from the Sutlej River near Firozpur, Punjab.
About its Dams …
Bhakra Dam is a concrete gravity dam on the Satluj River in Bilaspur, Himachal Pradesh. The dam forms the Gobind Sagar reservoir.
Nangal Dam is another dam in Punjab downstream of Bhakra Dam. However, sometimes both the dams together are called Bhakra-Nangal Dam though they are two separate dams.
The Nathpa Jhakri Dam is a concrete gravity dam on the Satluj river in Himachal Pradesh