Headquarters :- The Hague, The Netherlands
Founding treaty :- The Rome Statute
2 Working languages : English and French
6 official languages:- English, French, chinese, Russian, Arabic, Spanish
Ratification of Rome statute by 60 states Official established The international criminal court (ICC) in 2002
Crimes Within the jurisdiction of Court:-
 Jurisdiction of court is limited to the most serious crimes concerning to the humanity as whole in following crimes.
The crime of Genocide 
War Crimes
Crime against Humanity 
The crime of aggression 
The court has jurisdiction over crimes only if they are committed in the territory of a state party or if they are committed by a national of a state party; an exception to this rule is that the ICC may also have jurisdiction over crimes if its jurisdiction is authorized by the United Nations Security Council.
Member States :-
122 countries are State Parties to the Rome Statute of the International Criminal Court. Out of them 33 are African States, 18 are Asia-Pacific States, 18 are from Eastern Europe, 28 are from Latin American and Caribbean States, and 25 are from Western European and other States. Recently Philippines has surrendered their member ship to ICC.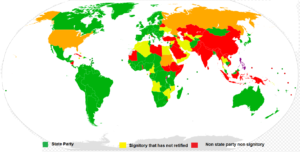 ROME STATUTE :- 
The Rome Statute of the International Criminal Court is the treaty that established the International Criminal Court (ICC). It was adopted at a diplomatic conference in Rome on 17 July 1998 and it entered into force on 1 July 2002. As of March 2019, 124 states are party to the statute. Among other things, the statute establishes the court's functions, jurisdiction and structure.